The second part of my take on the subject of going online will focus on whether or not the Internet has made us disconnected with our friends, rather than making us stay connected.
I decided to put that in one single post because I know that I can just go on and on and on about this.
The thing about most online communities - be it massive multiplayer online role-playing games, or blogging platforms, or DeviantArt or even a wiki, is that when we start out, we start out with a few people. These few people that become the first few members of the project are close-knit, and you want it to stay that way. But when new members come into the scene, the closeness is gone. You start to lose yourself, and you begin to feel as though this thing is just going nowhere.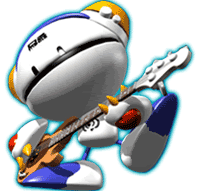 I've experienced it with O2Jam (back when it was still in its heyday) - YES, I PLAYED O2 JAM :D - I first got in there when a neighbour of mine introduced me to it, and wanted to have musical duels with me. I obliged. Then when I saw the characters being customised, I wanted to customise my own too. I wanted to be this young girl with a yellow shirt and purple hair and black pants playing the drums (so far, I never got to see a single avatar with a drum kit in its possession, and I wanted to be the first).
But the same problem of overcrowding came about, and when I was in Level 11 (I already had my hair and shirt on by then), I knew I just wasn't going to be close with these people anyway. I quit. And a few months down the road I discovered that O2Jam's servers just collapsed and that was the end of the entire game.
Right now, the same thing seems to happen with Facebook (especially when I have some 400+ friends - all of whom I do know) and to a certain extent,
Kingdom Hearts Wiki
(though the regular users, admins and I have to remain close-knit. We have to).
The goal of many online communities, as I've noticed, is to make users gather the most number of friends possible, without giving regard to how close we all get. Instead of connecting us, as they claim to be able to do, they're making us rather disconnected.
The onus ultimately lies on us to mingle with our friends, ask them how they're doing, even if it's been ages since we saw them. But how many of us do that ?
Internet communities have mushroomed, and the most popular of these today are Twitter and Facebook. Yet, almost all of them fail to address the one human weakness, which is bound to make us disconnected : constant communication. Yes, Facebook occasionally has this function on the home page (Accueil for me, since I'm using the French version) which screams out someone's name (but only on the sidebar, darn it !) and right below it, Prenez de ses nouvelles (Find out what's new, or something like that) or Dites-lui bonjour (Say hello to him/her). I don't think this is working very well, especially for someone with more than 300 friends. And many of us fit into this category.
And the worst part : the Like button, which everyone has not been expected, but rather, OBLIGED to click. I can understand if it's a simple nod of approval for a status update or user-uploaded content, especially if it's among friends. But if it's for something which needs critical approval ? Even YouTube has followed in Facebook's footsteps now. What happened to the star system where we could judge the way our works and/or site performed based on what people honestly thought ? Now it's based on likes and dislikes. How many likes does it take for someone to get five stars ? How many dislikes does it take to get fewer than five stars ?
I lament the demise of the old layouts. And the blatant disconnection all this has caused. And now, someone please teleport me back to Kingdom Hearts Francophone Wiki, because there, I can at least meet my close friends.
À la prochaine.
troisnyxétienne